2021 World Passenger Fest Key Takeaways
It was great to be back at the World Passenger Festival where it all began for us when we launched FareVantage™ back in 2019. A lot has happened since then, to say the least.
Attendees, presenters, and the content didn't disappoint, with the same positive energy flowing from both rail operators and suppliers.
We at Revenue Analytics are proud to have sponsored and attended the event. I was joined by our CEO Dax Cross who presented the virtual session, "Why is your team doing your RMS's work for it?"
Over the two-day event, the railway family shared ideas and innovative technology that will help revolutionise the industry. Like the rest of the guests, I left feeling positive about the return of demand for passenger rail.
Despite the overarching optimism that flowed through the sessions, we all recognized the last 18 months created a major challenge for the industry. Thus, much of the conversation addressed the major question of how to bring customers back to rail safely to support revenue recovery.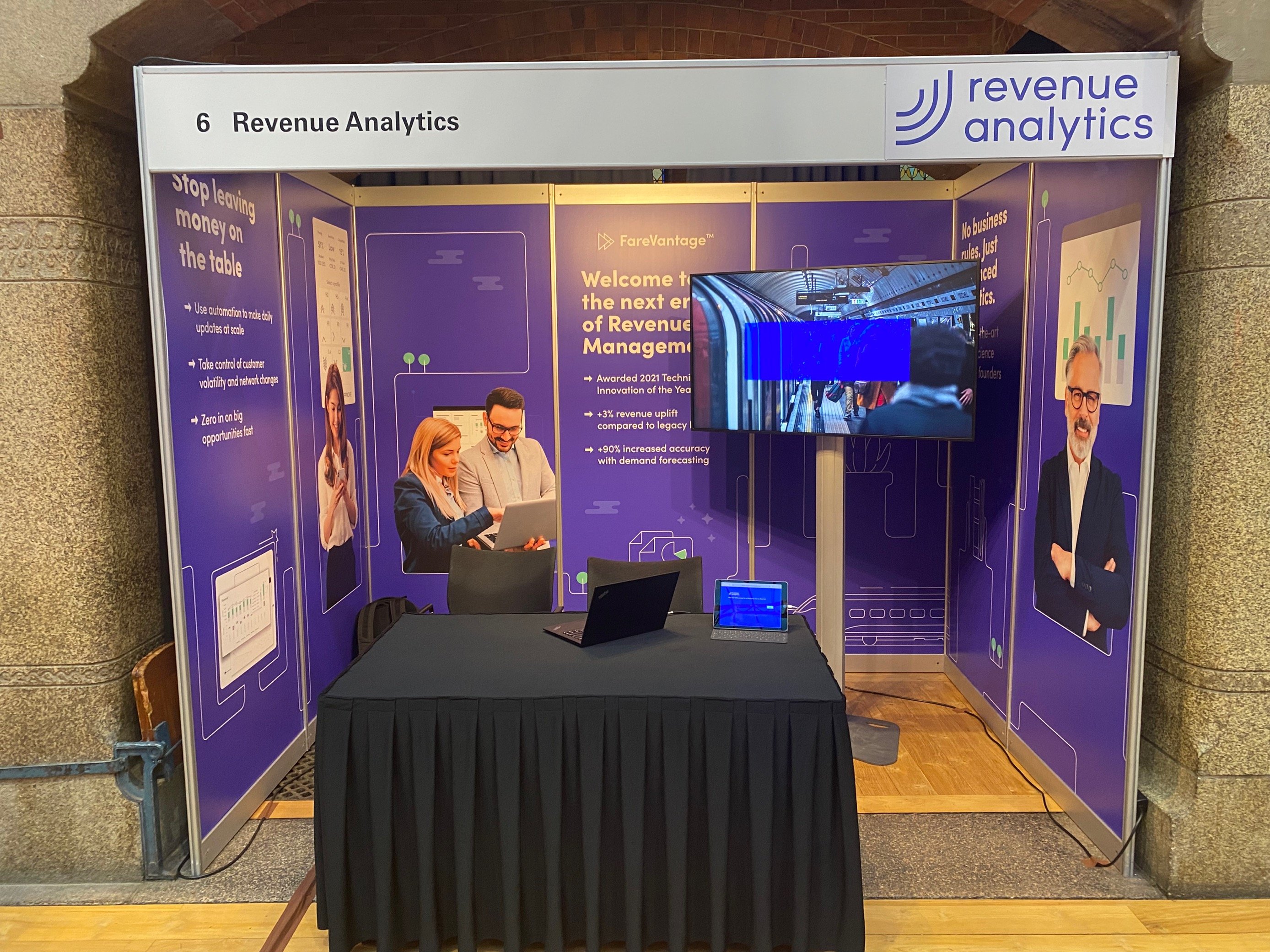 Driving demand through data and experience
Currently, ridership sits at about 70-80% of pre-pandemic numbers, which is largely due to people opting to work from home rather than commute to offices.
So where can operators drive demand?
From a pricing perspective, the industry has been given a rare opportunity to create something new and exciting that will help generate revenue and boost ridership. The industry is rich with data they can utilise to create a pricing strategy to shape ticket pricing for years to come. This will need to ladder up to marketing messaging focusing on safety, as well as a deeper passenger experience. Winning in the leisure market over modal counterparts (air/road) will be key to rail revenue recovery.
Ancillary opportunities to recover faster
Rail operators are investing heavily in distribution and ticketing, shifting legacy on-premise solutions to the cloud. This offers a more efficient way to purchase tickets and improve the overall customer experience.
Next generation RMS solutions such as FareVantage can help operators drive value from these investments by reacting quickly to shifts in demand to provide fares that make sense to the passenger.
Another interesting idea touched on by multiple attendees and companies such as Plusgrade was for rail operators to introduce more ancillary products into their offerings. Partnerships with tangential industries for services including meals, parking, hotels, etc. creates a richer experience and improves the last mile of the passenger's journey.
This presents pricing teams with another challenge to package goods and price according to demand. With a data-backed pricing strategy, the addition of these ancillary products could propel revenue recovery forward.
Optimize every fare, every day
Rail operators are being forced to innovate, fast, to both survive and thrive in the current environment. This reality has created an interesting conundrum – where should operators invest first?
Operators need to partner with technology providers that enable them to work faster and smarter to improve ridership, revenue, team efficiency, and customer experience – all at the same time.
At Revenue Analytics, we've helped some of the most prominent travel and transport names in the world. Our award-winning RMS FareVantage is poised to help rail operators improve their pricing strategy and stop leaving money on the table. Book your demo today to see how FareVantage can help you optimize every fare, every day while saving you both time and money.