Have you ever wondered how your Revenue Management strategies stack up against competing hotel chains? Are you addressing the same pain points and frustrations to get ahead of the pack?
To answer these questions – and countless others – we surveyed senior hotel executives across North America, and put the most interesting findings into our popular 2019 Revenue Management Trends in Hospitality report.
(Please grab yourself a free copy here if you haven't taken advantage already).
Here's what your fellow senior hotel executives say are their biggest areas of concern in Revenue Management: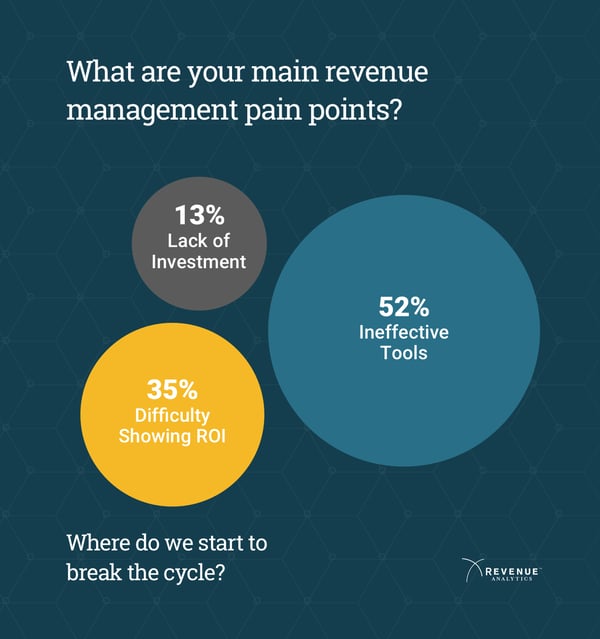 #1 Pain: Ineffective tools
A majority (52%) of respondents named ineffective or inefficient tools as the prime culprit.
Why is that?
Revenue Management systems are too often one-size-fits-all, leading to adoption challenges.
Or, they are overly complex, unintuitive, and difficult to use.
Time and time again, these common technology issues frustrate users and produce poor outcomes.
#2 Pain: Difficulty Showing ROI
35% say the inability to show ROI is a huge frustration.
Hotel companies—like so many other businesses—invest a limited number of dollars on initiatives every year. Because of that, initiatives are evaluated on their ability to show ROI.
Revenue Management is certainly no exception.
And, it's no surprise that ineffective tools (see pain #1) have a hard time proving that ROI.
#3 Pain: Lack of Investment
Last, the third pain point is a lack of investment (13%).
Unfortunately, many respondents have no choice but to persist with their existing (ineffective) tools that were never tailored to the specific needs of their hotels
Clearly, it's time to invest in better, more effective Revenue Management technology, that can demonstrate a ROI for the hotel chain.
Want some help with that? Shoot me an email: pmurray@revenueanalytics.com.