McDonald's recently acquired analytics company Dynamic Yield for $300M. Other Quick Service Restaurants (QSRs) are interested in understanding what motivated this huge investment – and how it affects what imperatives they'll likely soon have to face.
What does this solution do?
It creates personalized recommendations and offers to customers. The solution takes McD's data, applies machine learning algorithms to segment customers and determines the "best" offers to present based on attributes of the segment and current conditions. For McDonald's, the algorithm determines which menu items to feature and try to upsell on digital display boards in the drive-thru lane based on a variety of internal and external data sources, including historical sales, weather, time of day and nearby events. Customizing the digital display to focus customer's attention on the most relevant items should both drive higher spend per customer and increase efficiency in drive-thru ordering, both of which are big gains for McDonald's – or any QSR.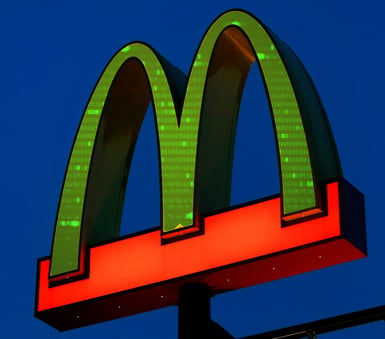 Why make the investment?
Personalized offers can drive higher customer spend, improve operational efficiency and improve customer loyalty by providing a differentiated experience. McDonald's super-sized investment clearly demonstrates that improving the customer experience through personalization is viewed as a big opportunity for growth and efficiency gains by one of the largest players in the space – and they're betting big on it.
Why now?
Traditionally it's been easier to customize the user experience on the web rather than in stores. Consumers today are used to seeing ads and other digital content change based on our browsing history and recent purchases. Part of why e-commerce has been growing at the expense of brick-and-mortar sales is due to the better customer experience online due to this personalization. To rise to these customer expectations, the need for brick-and-mortar retailers (including QSRs) is clear: find ways to bring the digital customer experience into their stores.
As a first step on their data analytics journey, McDonald's made big investments in digital menu boards in-store and in the drive-thru, electronic ordering kiosks in store and a mobile app. By bringing digital touch-points (and IOT) into the brick-and-mortar world they can now personalize the customer experience and bring the power of traditional e-commerce tools to bear.
What's unclear is how long McDonald's may have tried to solve this solution internally by developing their own analytics capabilities before turning to outside help and eventually a massive investment in the form of this acquisition.
So, $300M or go home?
Hardly. McDonald's approach to analytics as a head-first dive is far from typical – and we're willing to guess more than a few shareholders were left scratching their heads as to why McDonald's decided to purchase an analytics company instead of partnering with one to deliver a customized solution for a fraction of the cost.
A monstrous investment of this size isn't necessary for other QSRs (or retailers) to keep up – but one imperative is clear: the need to deliver a better customer experience by leveraging the analytics with the abundance of data around us.