Everyone knows that having a clear understanding of future demand makes for better pricing and inventory decisions, which boosts revenues.
What's more, your demand forecast is a key input into other business decisions. For example, your advance bookings forecast is a direct input into inventory and pricing recommendations. And, in the first-class cabin, a more accurate forecast results in more accurate catering orders, better customer service and less spoilage.
Forecasts are critical but there's a problem: producing an accurate forecast in the rail industry is a nightmare.
Why is it so hard? It's the complexity of a train's network coupled with sporadic special events –like football matches, bank holidays, and more – that makes things so hard.
All of this complexity means suffering through a ton of manual analysis and crunching a ton of data to produce a forecast. And if you're new to the industry or using an off-the-shelf software not built specifically for Passenger Rail, then this work isn't just painful, it's a killer.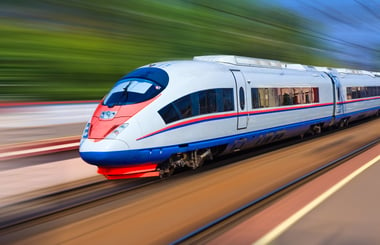 We've heard this same story time and time again from clients in the industry. So, we've created a forecasting engine specifically built to tackle the complexity of Passenger Rail without the pain of manual analysis and with none of the drawbacks of off-the-shelf software.
This next-generation engine merges traditional time-series based forecasting with the latest machine learning algorithms and leverages innovative special events functionality to maximize accuracy.
The results? One of our Rail clients slashed forecast error by 30% compared to the industry benchmark. Accuracy improvements of this magnitude deliver 1.5%-2% revenue uplift, not to mention the fact that they can now shift their time and attention to higher value work instead of toiling away in spreadsheets.
Without an accurate demand forecast, you're unable to make the decisions you need to maximize revenue. With a modern system that understands the nuances of the Passenger Rail industry and guides you to where your industry expertise is needed, you can ditch the manual analysis and data crunching, and stop leaving money on the table.