The World Cup finals are here, and already we've seen four matches resolved via penalties! Negotiating a long-term shipping contract can feel much like a showdown at the penalty spot against your client. Do you have the insights and analytics to secure a winning outcome? If a negotiation does occur, are you leveraging your data to increase your odds?
Those who love soccer and analytics are probably familiar with the work of Professor Ignacio Palacios-Huerta. His most famous work highlights how analytics has helped top-level teams win in major championships by predicting where players tend to place their penalty shots. However, being able to predict where your opponent is aiming does not guarantee a save. Just ask David De Gea, of Spain, who guessed correctly on Russia's attempt by Fedor Smolov, but was unable to push the ball wide. Much like in contract negotiations, maximum value is unlocked when you pair predictive analytics with insight on how your choices impact the outcome.
The first chart shows percentages of where a shooter is likely to place their kick. This is akin to having a forecast. Based on the forecast, the shooter is most likely to pick out the bottom right corner (goalie's left). Using only the forecasted information, the goalie should dive to his left.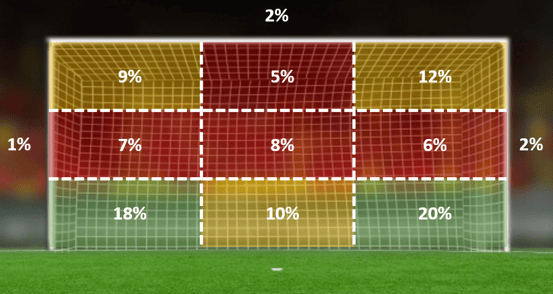 Next, let's say the goalie has three choices, (a) dive left, (b) dive right, or (c) protect the middle. The second chart shows the save percentage for each of the nine on-target shot areas, if the goalie protects the correct 1/3rd.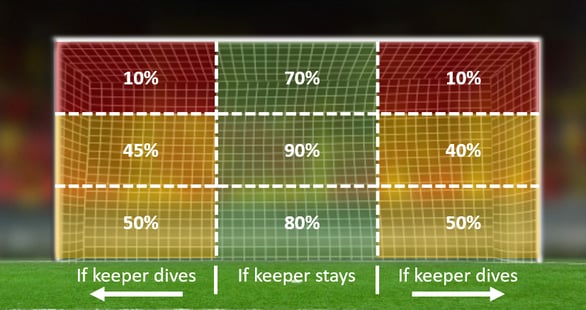 By combining these two percentages, you've calculated the likelihood of stopping the shot. The final chart shows those percentages. In this case, the math illustrates the goalkeeper's best chance at a save is protecting the middle.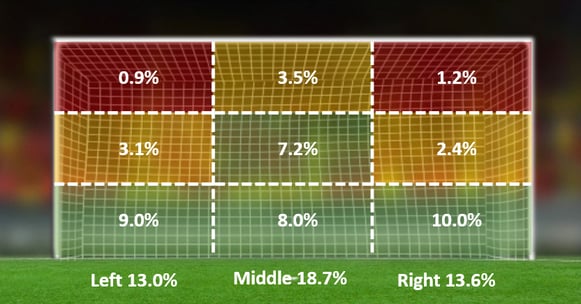 There are similar challenges with negotiated contracts in Logistics. Forecasting demand and capacity, plus a strong knowledge of the market and where it is headed, is critically important in helping set an initial reference price for negotiations. This is similar to the goalie knowing the tendencies of the kicker. However, the full value isn't reached until you overlay additional insights. You need customer segmentation and price sensitivity models (i.e., Market Response Models) to predict how your likelihood of a sale is impacted by changes deal terms.
At Revenue Analytics, we've helped some of the world's top Transportation and Logistics companies build foundational forecasts, define customer segmentation, and quantify price sensitivity. These inputs underpin a long-term contracting solution that calculates the "win probability" of negotiated contracts based on your potential actions. This battle-tested technology has proven to capture an additional 1.5% - 2% of revenue for our clients. Contact us to learn more about how we can help you make the game-winning save.
Special thanks to Austin Carter, Strategy Analyst for contributing to this blog.
Graphs have been created to illustrate the above content.