The ideal pricing strategy for most B2B companies is to charge every customer exactly how much they are willing to pay in order to extract every last drop of consumer surplus (Figure (a)).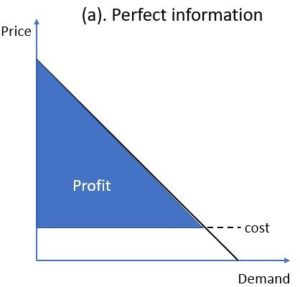 It sounds great in theory, but how can you assess a customer's willingness to pay? Their willingness can vary based on personal circumstances. How can you account for that? For example, in a city where water supply and alternatives are abundant, a bottle of water may not be worth much, but it could be worth a lot to someone in the desert.
A company should isolate the customer, product, and situational attributes that drive willingness to pay, then craft a pricing strategy around the customer segments. Most B2B companies have either no customer segmentation at all, or resort to a basic demographic-based segmentation (i.e., geography or industry). Since neither approach captures differences in willingness to pay, a "one price fits all" strategy is often applied where there's no price differentiation among customers (Figure (b)).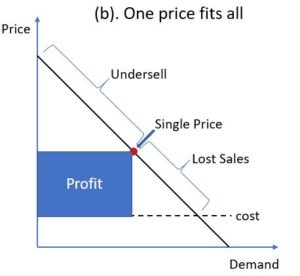 Most B2B companies recognize the shortcomings of this approach. The typical solution? Allow sales reps wide autonomy in discounting prices to close deals. But how accurate and consistent can one person's gut be when it comes to setting customer-specific prices? This naïve strategy causes businesses to lose customers whose willingness to pay is low and misses out on profits for customers whose willingness to pay is high.
Segmenting the market on a willingness to pay and designing a targeted pricing strategy (Figure (c)) will achieve higher business impact than the "one price fits all" strategy: it's more structured and disciplined as opposed to letting your sales rep sell without guidance.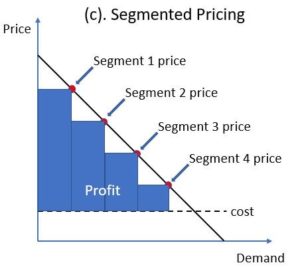 With detailed sales data and associated customer and product attributes, a statistically-driven behavioral customer segmentation can be derived. By leveraging advanced statistical tools (such as Classification and Regression Tree (CART), Random Forest, and K-means) and combining business insights, you can segment the market into customer groups that have similar willingness to pay. You can run these statistical models seamlessly across your business, providing a scalable bottom-up approach to customer segmentation. Through these types of methods, one can truly cut through the "noise" inherent in most B2B transactions and isolate customer attributes that are predictors of willingness to pay.
Customer segmentation is the biggest enabler to unlocking pricing potential. With the right capabilities, your behavioral customer segmentation will drive more confident and targeted pricing, reduce sales complexity, and deliver impact to the bottom line.
How much money is your current segmentation approach leaving on the table? Contact us to find out.