Warfare for ad revenue in the trillion-dollar media market is intensifying – everyone knows this. The digital behemoths like Google and Facebook are vacuuming up ad dollars at an astounding rate. The digital revolution has completely disrupted the industry.
However, I did not fully appreciate this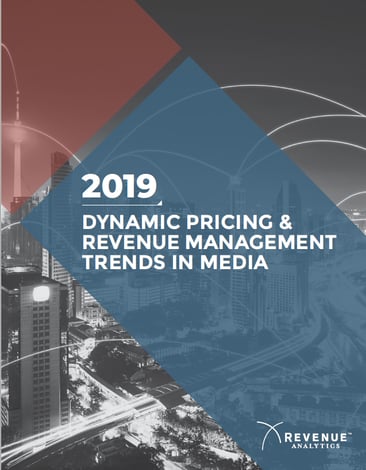 wave of disruption until I read our 2019 Media Trends Report.
Through a third-party (TechValidate™), Revenue Analytics anonymously surveyed senior executives in Media who are coming to grips with the new realities, and their insights are astonishing. The explosion of streaming content which can be consumed on mobile devices coincides with an increased focus on ad personalization and targeted messaging. One-size-fits-all messaging which can be broadcast to the masses is rapidly becoming a thing of the past. Today's advertisers want more than ratings, they're insisting on audience engagement guarantees and ROIs. The additional complexity and volatility are causing a proliferation of programmatic platforms where one-day autonomous computerized agents will optimally buy and sell ad space. In the meantime, they at least serve as way to electronically conduct business.
Coupling these executive insights with public and proprietary data, Revenue Analytics identified emerging trends & competitive strategies to help neutralize the threat from resource-rich competitors and provide guidance into how intelligent systems are being constructed to defend turf in this brutal marketplace.
Some of the trends could have been anticipated; some were surprising. All are relentless. Trends explored in the report include:
Rapid migration of ad dollars to digital
Shift in ad priorities to personalization
Use of programmatic buying to enhance the quality of audience
Emergence of intelligent systems as a competitive weapon
Survey respondents were quite open about strategies they are employing to counter the disruption. The 2019 Media Trends report unveils and examines strategies such as:
Going beyond ratings to create better pricing, inventory and sales models
Expert use of analytical models to monetize insights
Targeting consumers in non-linear, mobile streaming markets
Leveraging Dynamic Pricing and Revenue Management to capture increased share
The upheaval in media is seismic and irreversible. Revenue Analytics' 2019 Media Trend report reveals the elements forcing change in the way ads are bought and sold.
The report is must-read for anyone in media, and it is packed with perceptive lessons for those in any industry whose business is disrupted by the mobile revolution. If you haven't downloaded it yet, I suggest you do so now.
Download link: https://research.revenueanalytics.com/2019MediaTrends