How Hotel Revenue Managers Can Win Back Customers by "Thinking Different"
Forget "getting back to normal" or desperately seeking "the New Normal." The shrewd ones will be growing by stealing share.
The longest economic expansion in U.S. history was abruptly ended by COVID-19. As devastating as the near-term impact has been, the residual effect on the economy and travel, in particular, is completely unknown and unknowable.
There will be no roadmap to success in this environment. Forecasting the unknowable is impossible. The most you can do is scenario planning, which will allow you to prepare for any eventuality.
It's time for humans to rise up. We must leverage the creativity, ingenuity, and imagination of the most powerful organic computers on the planet—our brains.
However, we can't think like we have in the past, nor can we think the way others will be thinking. During the economic boom of the last decade, the rising tide lifted all boats. We were growth oriented. We wanted to capture our fair share of a growing market. The coronavirus outbreak completely changed that for the foreseeable future.
It has been heartwarming to see the global community pull together to fight the virus. "We are all in this together" has been the global rallying cry. We have been checking-in on neighbors, charitable giving has hit new highs, and examples of individual generosity abound.
However, after the pandemic subsides, we will face the economic consequences of the tragic loss of life, the lockdowns, and the shuttering of much of the global economy. Many businesses will fail. Many jobs are not coming back. Consumers will be tentative and cautious. When it comes to winning back customers, we definitely won't "all be in this together." It will be unlike anything we have seen before. It will be a vicious battle for survival. As Revenue Managers, we will need to THINK DIFFERENT.
"Think Different" was the advertising campaign Steve Jobs unleashed when he returned to Apple. Apple at the time was bleeding cash and in a battle for survival. The ad campaign turned the company around. It was a counter-culture masterpiece which profiled iconic personalities like Albert Einstein, John Lennon, and Gandhi. He called them "The Crazy Ones. The Misfits." They were incurable optimists who adopted unconventional ideas. They were crazy enough to think they could change the world.
We must have this attitude as we face an uncertain and problematic recovery in a radically different environment.
Here are a few ways to THINK DIFFERENT:
Think Revenue Creation
As Revenue Managers, our primary job had been to manage demand. We'd been great at doing this with price and inventory controls. However, for the next few quarters, at least, there will be little demand to manage. We need to become Revenue Creators. This needs to be a collaborative role with Marketing and Sales.
Revenue Managers are the ones with the granular data to know where demand is likely to be stimulated. We have the knowledge to help target the right customer segments with the right promotions at the right time.
The critical roles for Revenue Managers in revenue creation will be:
Targeting markets

—Your lens into historical booking data has become obscured, but it is not useless. Price elasticities will have changed. Astute Revenue Managers will have intuition and instinct to help determine the extent to which elasticities have been affected until demand becomes more predictable. Where have you been able to stimulate markets in the past or been successful in stealing share? What characteristics of your segments have changed? Care must be taken to keep a short leash on special offers. Russell Vereb, Vice President of Revenue Management Solutions at Marriott International recently told me to caution Revenue Managers about the potentially negative long-term consequences of short-term tactics like flash sales and steep limited-time discounts. First, do no harm.
Rapid feedback—Speed and nimbleness will be keys to success. You can't wait until the end of a campaign to assess its success. You will need to spot trends early so that successful strategies can be amplified, and duds diminished. Funds that were to be spent on advertising in Chicago may need to be diverted to direct marketing in Los Angeles.
Identifying pivot points—The post-COVID recovery will be erratic and spotty. Strategies will need to be changed on-the-fly. The scenario you had initially planned for might not happen. You'll need to pivot fast to a more likely scenario. Same with targeted markets. If corporate travel is not materializing in Vegas as expected, where can discretionary travel be found?

Finding Nuggets of Opportunity

—Traffic is going to be at historical lows for the foreseeable future. However, even in the worst of times, sporadic areas of opportunity will pop up, then they will evaporate just as quickly as a tattoo artist convention in Atlanta. It is critical to your financial recovery that you see these opportunities as they emerge. They will be very scarce and very precious. If you wait until the demand is evident, it will be gone.
Rethink Customer Segments
Different customer segments will recover at different velocities. You are in peril if your properties are heavily dependent on international travel. International travel will be impacted by legal restrictions (think Certificates of Immunity), higher costs, longer immigration queues, and fear.
Research also indicates that it will take longer for business travel to recover. Millions of people are getting comfortable working remotely and video-conferencing. Corporations are using this opportunity to cut travel budgets. A hotel dependent on business and group mix will need to pivot quickly to more transient and leisure.
Similarly, think "local" not "travel." Think of stimulating demand for local events or meetings. Surveys show that demographics will play an even greater role than in the past. Younger travelers will have far less anxiety and will be more willing to accept risk, and accordingly, more receptive to promotional rates.
Look Upstream
Don't wait for bookings to show up in your pace reports. You need to look for signs of life upstream in your various market segments. Your upper funnel will be a better guide to understanding the impact of your revenue creation efforts. You'll need to rely on clickstream analytics to see who is looking and what they are looking for; then compare that with who is actually booking. Those diagnostics can give you early insight into the behavioral changes in your markets.
Upstream indicators could also include sources that you may not have previously considered. The recovery in China might be a leading indicator of recovery here.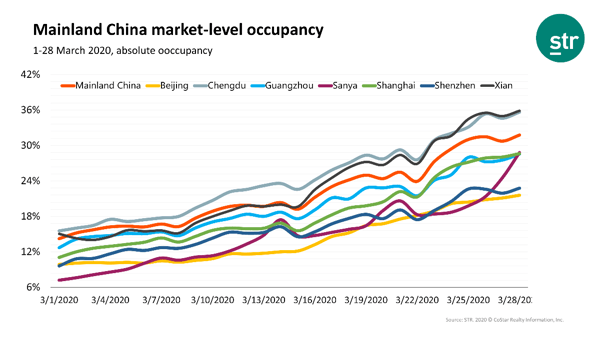 The WHO Coronavirus Situation Reports could give insight into the potential and/or severity of a second-wave COVID-19 outbreak. TSA Traveler Checkpoint Numbers will presage a recovery in travel demand—but don't look now. It's bleak.
Change the Channel
Hotels have had a love/hate relationship with on-line travel agencies (OTAs). Recently, the OTA distribution channels' global bookings have grown twice as fast as the overall market. They deliver two-thirds of hotels' bookings, but with hefty commissions & fees. This has caused significant pushback from hoteliers seeking to regain control of the customer and reduce costs. Over the past few years, most hotels have focused on reducing reliance on the OTA channel and emphasizing direct bookings. The rallying cry from hoteliers has been "Protect Your Turf."
Greg Cross (no relation to your author) recently retired as SVP of Revenue Management for Hyatt Hotels Corporation. Prior to that, he built Hilton Worldwide's Revenue Management program from scratch. He's been through the turmoil caused by Gulf Wars, 9/11, the tech bubble, SARS, MERS, and the Great Recession of 2008-2009. He recently reinforced to me what most of us already know. "When these disruptive events completely overtake normal demand, price is not the answer." You must make sure you are visible to anyone who is looking to book.
According to Cross, this means you need to change distribution channels whether you like it or not. His advice: collaborate early with the OTAs and find win/win propositions before you must turn to them in desperation. Partner with them. Be wary of them. Negotiate the most favorable terms that will give you the best placement.
Cross says that the role of the Revenue Manager is essential is in determining the ways OTA inventory is priced, allocated and managed. For this reason, he exclaimed that "laying off or furloughing Revenue Managers during a downturn is the dumbest thing I've seen."
Leapfrog Tech Stack
I'm not about to say that the COVID-19 disruption will obsolete your Revenue Management systems. I am saying, however, that they are getting whacked.
Revenue Management systems have become tremendously comprehensive and complex machines. They were great for helping large enterprises squeeze the last few points out of a market during times of relative stability. Despite all desires to return to normal quickly, the post-COVID impact is expected to last two to three years. Can these huge systems rapidly adopt when speed and nimbleness will be more important than pin-point accuracy?
It might be a good time to re-evaluate your tech stack.
As great as many of the Revenue Management systems have been, a recent survey of hotel senior executives by Revenue Analytics, Inc. disclosed that 41% of executives were frustrated with their ineffective internal tools. Additionally, 36% of the respondents complained about the adoption of their Revenue Management systems in general.
The upcoming environment calls for an approach that is more simple, intuitive, and flexible. This may be especially true as bringing back staff could be slow and uncertain. (Unfortunately, most hotel chains won't take Greg Cross's advice about not laying off Revenue Managers.) Overworked Revenue Managers won't need all the nuanced capabilities built into the larger systems.
That's not to say, however, that we need to give up on all the tremendous gains in sophisticated analytics that have been made over the last few years. It's just that those complexities should stay behind the curtain. Naturally, these systems should be able to perform the essential tasks of setting price and inventory levels. Databases must be repaired and reconstructed after COVID-19, and the algorithms should be set to "learn" faster than they would have under normal circumstances.
Retooled tech stacks must take into account the same considerations which Revenue Managers think about: demand, competitor rates and customer price sensitivity. If so, there is no reason that these nimble new systems can't eventually be even more automated than the old ones. They should be able to make optimal decisions in most situations.
Revenue Management systems with greater automation and less complexity will be crucial for economy chains. It is likely that the economy and mid-scale markets will outperform the upscale and luxury segments, for at least the next year. Economy and midscale properties typically don't have the level of Revenue Management expertise dedicated to managing revenue. In fact, some rely on General Managers to set rates. An ideal system would be able to set rates for these properties and provide real time alerts—to the GM's mobile devices.
For other chains, the likely reduction in Revenue Management staff will require that the new systems specifically aid in productivity improvements and multi-tasking. These systems should provide real-time alerts as well—perhaps to mobile devices as well since remote working may become standard. An agile system would also allow for multi-property management from a single screen. Ideally, the new Revenue Management system would filter and prioritize revenue opportunities among the properties managed to increase productivity.
A new, nimble tech stack could become your most powerful weapon in the post-COVID world.
Take Control
In a PBS interview a few months before his death, Steve Jobs revealed a philosophy of life that speaks to us in these troubling times. Jobs said that "the most important thing (in life) is to shake off this erroneous notion that life is there and you're just gonna live in it, versus embrace it, change it, improve it, make your mark upon it."
As Revenue Managers, we need to shake off the erroneous notion that the pandemic crisis is there, and that we are gonna have to live with it.
It will be up to us, The Crazy Ones, The Misfits, the Revenue Managers to ingest, digest and decode the confusing and conflicting signals we get as recovery sputters forth. We can live with the recovery as it happens, or we can embrace it, change it, improve it, and make our mark upon it.
We must be The Crazy Ones who are crazy enough to think we can change the world.