The Transformative Power of Automation for Revenue Management Teams
You've heard it before: automation is your best friend. Use it, or you'll fall behind.
It's probably all over your LinkedIn feed, your inbox, and your conversations with coworkers. And while you may agree with the sentiment in theory, have you found yourself wondering what it really means in practice? Specifically, how does automation benefit hospitality leaders and revenue management teams? And can you really trust it?
Read on for a deep dive into how automation – automation tools in Revenue Management Systems, to be exact – could be game-changing for your business. And not to spoil the ending, but we think the ability to give your team back 50 hours each month will have you asking: "How can we start using these tools today?"
No automation?
No

Big problem.

In the past, hotels often had on-site Directors of Revenue Management (DORMs) who managed pricing for a single property. They were trained to manually manage pricing updates in a day-by-day, rate-by-rate cadence – sometimes in Excel, and sometimes with the help of a Revenue Management System (RMS). The work was manual and time consuming, but with only one property to focus on, the workload was manageable.

The plight of the modern revenue manager (RM) is quite different. Gone are the days of the single-property DORM being the norm. Instead, RMs are responsible for a portfolio of many different properties with unique demand patterns, offerings, and pricing strategies. These "above-property" RMs (i.e., they aren't on-site, and are overseeing more than one property), must handle a MUCH higher volume of rate changes.

Often, these changes are still being handled manually, either in Excel or in a legacy RMS that wasn't built to support large portfolios of properties. The automation capabilities of these legacy systems often take an all-or-nothing approach, forcing users to either (a) manually review all recommended price changes or (b) let the system automatically execute EVERY recommended price change. Option B can be scary for RMs who don't trust the tool (often for good reason), resulting in constant manual overrides and ultimately very little automation at all.

In short: revenue management has changed, and legacy systems haven't kept up. The modern above-property world requires revenue managers to oversee multiple properties on a daily basis, therefore requiring systems that support that way of working. Effectively keeping up with the sheer scale of pricing changes required isn't possible without the aid of automation.
By the numbers
In a recent study conducted by the Revenue Analytics team, data provided by a large hotelier uncovered some startling insights into the day-to-day life of the modern RM. The participants in the study were responsible for overseeing multiple properties. The results showed that:
An average of only 11 manual rate changes per day were executed, either by the user directly or via RMS automation (across their entire portfolio)
Each manual pricing update took approximately 1 minute
The RM's day was largely filled with manual tasks
The Revenue Analytics team took the hotelier-provided data and calculated the efficiency gains achieved using N2Pricing RMS's automation capabilities. Here's what we found: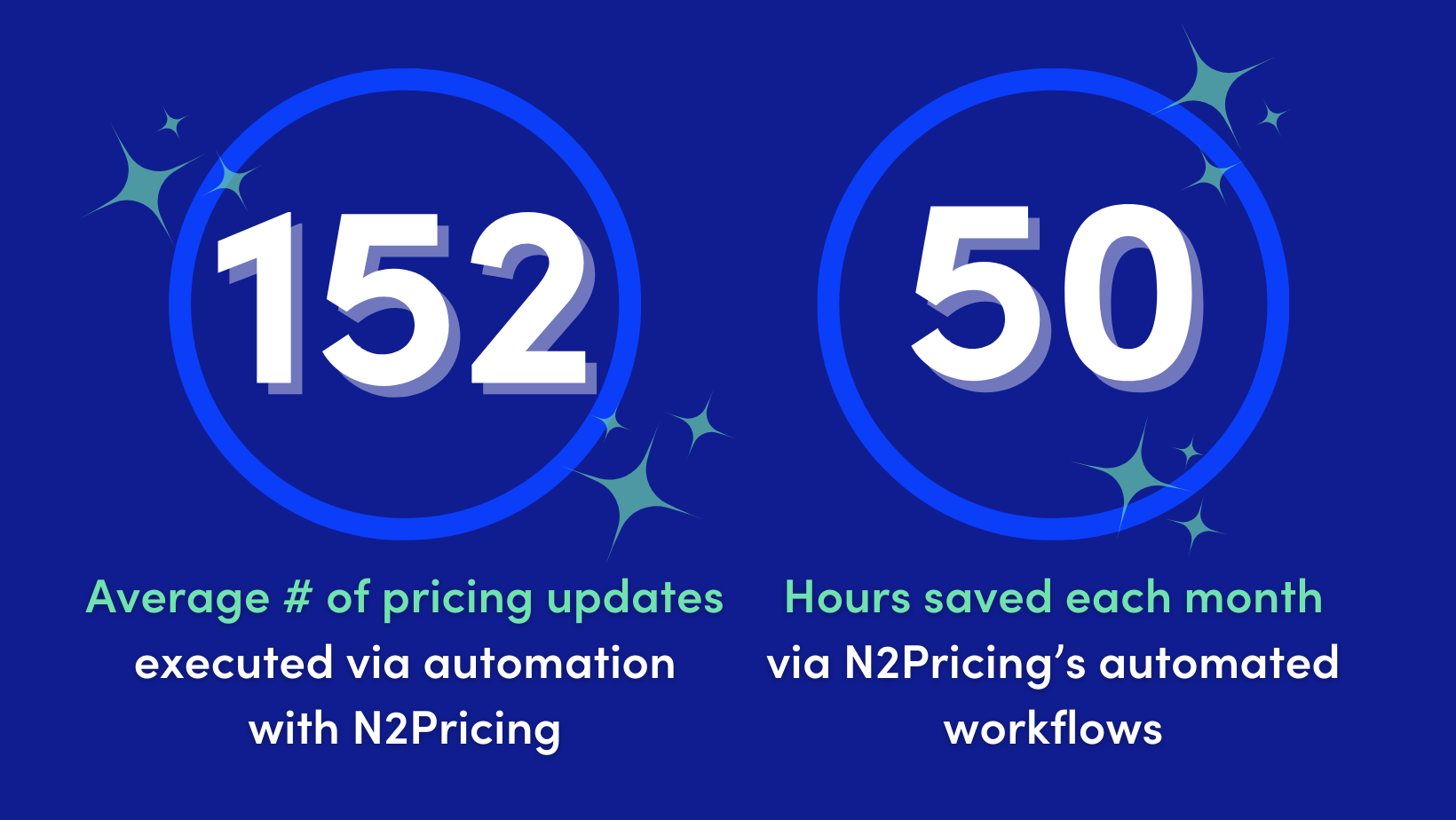 That's nearly a 14x increase in the number of daily rate changes executed. Talk about an efficiency boost!
And while the efficiency gains are an impressive statistic, it is the ability to reclaim up to 50 hours each month that is the true goldmine for revenue management teams. Freeing them from repetitive, manual tasks allows them to focus on:
Collaboration with cross-functional teams (marketing, sales, etc.)
Market trends and competitive analysis
Commercial strategy & alignment
Continued education & training
Work/life balance
It's about so much more than the numbers. It's about enabling your team – and your business – to flourish.
Empower your team to take back their time
So, we return to our original question: how does automation really benefit revenue management teams?
Increase efficiency. Manage more properties with ease. Manual price changes become the exception, not the rule.
Achieve scalability. The sheer number of pricing decisions required of above-property managers each day isn't achievable without automation.
Unlock their time. Free your team from manual processes and endless button-pushing. Allow them to dig into important, fulfilling work, such as research, collaboration, and commercial strategy.
The key to unlocking these benefits is trust in the right technology. Having access to an RMS that employs automation is great, but only if RMs trust the tool enough to stop overriding its recommendations. We are proud to say that N2Pricing is built on transparency and the most accurate demand forecast on the marketing. These qualities instill trust in the user, encouraging them to utilize the automation capabilities to the fullest. For more on the specific ways in which N2Pricing uses automation, check out our blog.
If your team is focused on above-property revenue management, then automation truly is key to your success. In order to effectively scale your pricing strategies, gain efficiency, capture demand, and boost profit across your portfolio, you must move away from manual revenue management. So, while automation might feel like the latest LinkedIn trend, it's also critical to any hotelier's success.
Curious to see how N2Pricing's automation capabilities could benefit your business? Connect with an expert on our team today.