Remember These 4 Takeaways from HSMAI ROC
Wow. This year's HSMAI ROC will go down in my personal history as one of my all-time favorite conferences. The content embraced the current challenges in the hospitality industry, and the audience was eager to participate. Like other attendees, I left the day on a high, knowing that our industry is resilient and will rebound.
1. The challenges and silver lining of the great resignation
There is a migration of hospitality talent leaving the industry, making frontline talent challenging to hire and retain. Currently, it's particularly difficult to keep housekeeping, front desk, and outlets staffed to meet occupancy demands – so much so, that some hoteliers have begun to outsource staffing in these departments just to keep operations and amenities running.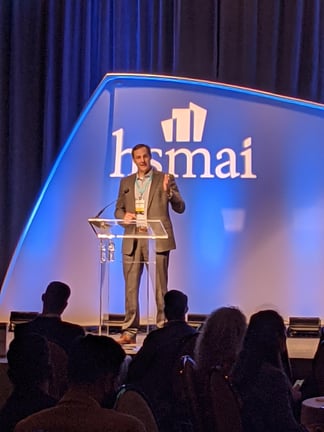 Revenue Analytics CEO Dax Cross welcomes ROC attendees back from lunch.
The great resignation has ample consequences for guest satisfaction. Leisure travel is booming, and this segment is especially particular about guest experience. ADRs are on the rise, but service is not meeting expectations and reputation management scores are plummeting.
There is a strong correlation between rate and reputation score. But that doesn't mean dropping rates to try to boost satisfaction is the way to go – a sentiment that many hoteliers have seemed to internalize during the pandemic.
Paula Zeller, Divisional VP Sales & Marketing, Remington Hotels, noted, "Most rates have taken huge hits in previous downturns, but not this downturn. Why? Because the crisis is market-wide and there is nothing to gain by lowering the rate. Stay strong."
Instead, companies are embracing automation and third party tech solutions in sales, marketing, and revenue — and even frontline staffing. Automation has become a popular replacement for remedial tasks. Finally, hoteliers are embracing tools that are high-tech, low touch. This has allowed hiring to target higher-tier talent to focus on strategic initiatives.
A silver lining from the pandemic is that the staffing shake-up has broken down silos. Hospitality professionals in revenue, sales, marketing, and operations are all aligned and laser-focused on the same goals. You can read more about this shift in our joint HSMAI white paper, The New Revenue Team. This is a trend I hope to see continue once we move on from the pandemic.
2. Profit > Dollars
Consumer wealth is at an all-time high. While challenges in staffing and recruiting are wreaking operational havoc, the hospitality industry is simultaneously experiencing the most substantial consumer spending in more than 70 years. People have money, and after being stuck inside for more than a year, they want to spend it on travel.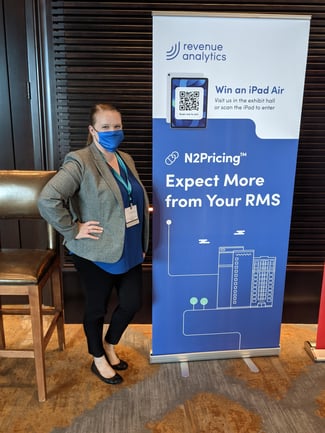 Tess McGoldrick, Revenue Analytics Director, Customer Strategy & Success, poses next to our sponsor banner
We all know the basic laws of supply and demand dictate when supply is down and demand is up, costs rise. With fewer people willing to work, it costs more to keep the ones who are. As pricing is key to success, there is more focus on the bottom-line between rate, occupancy, and new labor contracts. And these rising costs in labor are negatively impacting profit despite the travel boom.
Hoteliers are turning to data and analytics technology to reap as much profit as possible in an age where every dollar really counts. N2Pricing™, our innovative RMS, features algorithms with profit optimization at the core, allowing hoteliers to optimize for profit over dollars.
3. The new nature of travel and demand
While the consensus among hoteliers has largely been that 2020 data can't be used to benchmark future success, the harsh reality is that we probably need to rethink how we're weighing all of our historical data when we forecast demand.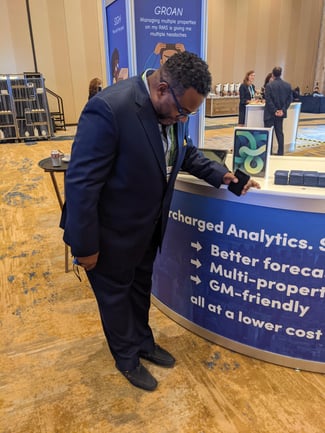 Me, checking out a potential scuff in my blue suede shoes – a conference tradition. Crisis averted!
Instead of looking back, we should be far more focused on looking forward. This is because it's not just demand that's changed – it's the nature of travel as a whole.
Leisure travelers are showing a greater propensity to travel domestically, which is not surprising given confusing and rapidly changing quarantine laws for international travelers. They're also gravitating towards destinations with natural attractions such as mountains and beaches – and away from crowded, urban city centers.
Though leisure travel is currently strong, business travelers – especially in urban markets – have not yet recovered. However, we have noticed a blurring between leisure and business travelers in some markets. Because of increased flexibility in the workplace, "bleisure" travelers are inclined to tack a few days of leisure onto a business trip.
The new hybrid workforce that has emerged from the pandemic will also give way to a new type of demand for business travel to conduct smaller in-person meetings and foster employee engagement.
While historical data is certainly not dead, it will be far less useful in forecasting a new type of demand in the years to come. Hoteliers need RMS technology tailored to their unique properties equipped with industrial-strength analytics to forecast with the right mix of historical, predictive, and market data.
N2Pricing uses a wide variety of forecast models, which place varying degrees of emphasis on recent and historical trends, then combines them with current and future data sets.
During onboarding, and then on a regular, usually quarterly, basis, we run data through every single algorithm in our library. This occurs at a granular level so different forecast models can be used for, say, different time periods and market segments. This allows hoteliers to not only identify the most comparable historical data sets for both today and tomorrow, but also determine how much they should be weighted in conjunction with other predictors of revenue and demand.
4. Time is a luxury we don't have
It's not just the accuracy of data that is proving challenging for today's hoteliers – it's the time needed to manage all of it. That's why there's an industry-wide push to integrate data sources and house them in a singular location. Hoteliers simply don't have the luxury of time to constantly check and cross-references multiple data streams to gain an accurate depiction of demand.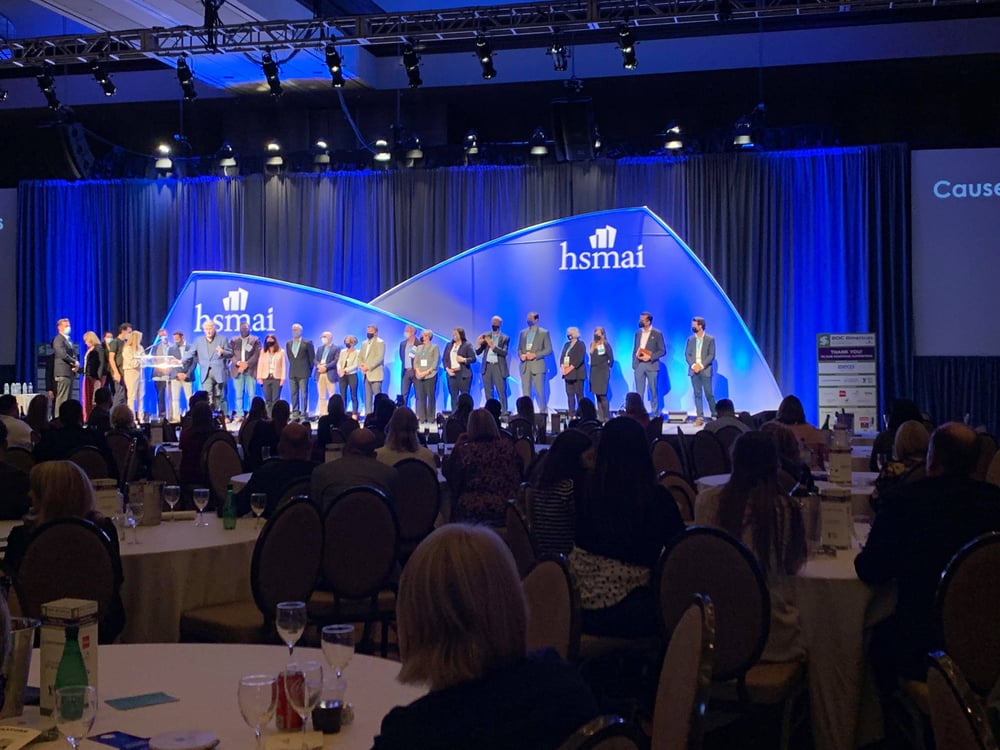 Dax Cross joins other hospitality leaders on stage to close out the conference.
Another area where hoteliers are looking to cut back hours is budgeting and forecasting. Though these tasks are critical, they have proven quite daunting – especially in an era where we are all coping with the reality of doing more with less.
Lori Kiel, Chief Marketing and Revenue Officer, Kessler Collection mentioned, "Hot topics of the conference included budgets, the how and the why we do them, and if there is a future without a 5-month process dedicated to preparing a 12-month budget."
Panelists at ROC talked about the opportunity to leverage automation and technology to assist in this process and allow valued team members to focus on the strategic component of budgeting and forecasting rather than the busywork.
The modern RMS for today's revenue challenges
Like with anything else in this world, change is both scary and exciting. Spending the day talking through the challenges and opportunities ahead with some of the brightest minds in the industry was invigorating.
What is clear is that the industry is evolving, and hoteliers need partners that are poised to grow with them. Putting our N2Pricing RMS in the hands of hoteliers embracing what comes next is poised to revolutionize our industry, and I can't wait to be a part of it.
Does this sound like you? Let's schedule some time so I can show you how N2Pricing could solve your hotel's greatest pricing challenges, and save you valuable time in the process.