Revenue Management in a Crisis: Avoid These Bad Practices or Pay the Price Later
Desperate times don't call for desperate measures. Hasty steps taken in desperation will screw your recovery.
The term "desperation" indicates despair and hopelessness. We are not in a hopeless situation. We WILL recover. It's going to be a long and uncertain recovery, but we are incredibly resilient as a society, and we are entrepreneurial and resourceful as individuals. We'll get through this.
In the very near-term, however, most companies are in triage.
I shudder at the term "triage." I was trained in the U.S. Air Force Medical Corps before going to flight school. Part of our training was a simulated mass-casualty exercise. We had to rush onto a realistic crash scene with bloodied and groaning victims. Within minutes, if not seconds, we had to assess who needed immediate help, whose injuries could wait, and who was going to eventually die irrespective of help. It was harrowing. We were training for a situation we hoped we'd never see: when the decisions we made would be literally life or death decisions—made on the spur of the moment. The objective of the exercise was to make sure we were equipped to do the most good for the greatest number of people—with a critical eye towards long-term outcomes.
It's heartbreaking to realize that triage scenarios are actually playing out in hospitals all over the country as the virus overwhelms health-care capabilities in many communities.
Triage in business is much the same. It's not flesh and blood, but it's financial carnage. People's lives will be permanently affected. The financial damage inflicted by COVID-19 is a crash scene. It's messy, and there is genuine human anguish.
As I write this, most of the United States is still in lockdown. We haven't seen the true extent of the carnage. Notwithstanding a $2 trillion stimulus package, half the hotels in the country could still close and tens of thousands of employees might be laid off. A senior executive at a major hospitality chain confided privately to me that he's currently "up to his eyeballs in closures and furloughs."
Jim Compton, former Vice Chairman and Chief Revenue Officer at United Airlines, came up through Revenue Management and has first-hand experience in dealing with the aftermath of the Gulf Wars, 9/11, SARS, Swine Flu, and the like. We were recently discussing the current crisis. His first comment to me was, "You need to move quickly and get beyond the emotions of such a dramatic event." It's easy to be overcome with emotional trauma, especially since most of us have never seen anything like this. Just like medical triage, the unemotional objective must be to do the most good for the greatest number of people—with a critical eye towards long-term outcomes.
Compton says that Revenue Management must be in the middle of all the major decisions. However, the perspective from Revenue Management must be more broad-minded than it would be in normal conditions. According to Compton, Revenue Managers should focus a critical eye on long-term outcomes, and those outcomes must encompass employees, customers. and investors.
During the helter-skelter, panicked decision-making of the moment, often more long-term harm can come from inappropriate actions during triage. Medical students are taught "Primum non nocere," attributed to the Greek physician Hippocrates. First, do no harm.
Naturally, surgery involves short-term harm. So does closing hotels and furloughing employees. You must be sure that any intervention will have greater long-term benefits than short-term pain.
For us in Revenue Management, unfortunately, it is so easy to inflict long term-damage in our fervent desire to act fast and stop the bleeding. We can unwittingly cause harm, despite the very best of intentions. We are Revenue Managers, and it kills us to see revenues tank. We have to do something! So we are susceptible to impulsive mistakes that cost us in the long term.
Undisciplined Discounting
A few years ago, I gave a talk at Georgia Tech which enumerated the Worst Practices in Pricing and Revenue Management. These happen to be short-term actions which are very enticing in these desperate times. I thought it might be good to specifically call them out as what NOT to do when triage stops and you try to recover revenue.
These worst practices all come under the broad heading of Undisciplined Discounting. I recognize that, once we are on the road to recovery, discounting will be an absolutely essential component of your Revenue Management arsenal. However, it must be done with precision. In my next article I will address how discounting should be approached. For now, please avoid these practices!
Carpet-Bombing Discounts
Desperate moves to reduce revenue losses will invariably involve the use of discounts. The more widespread the destruction, the greater the temptation to discount your way to growth. Broad-based, "carpet-bombing" discounts are an indiscriminate way to grow volume or win back share. It will invariably lead to collateral damage.
A great post hoc way to test the effectiveness of your discounts is to do a scatter plot of the discount percent given customers in a market vs. the volume gain in the market. You should expect that the greater the discount, the greater the volume gain, right?
Here is a scatter plot of actual client data.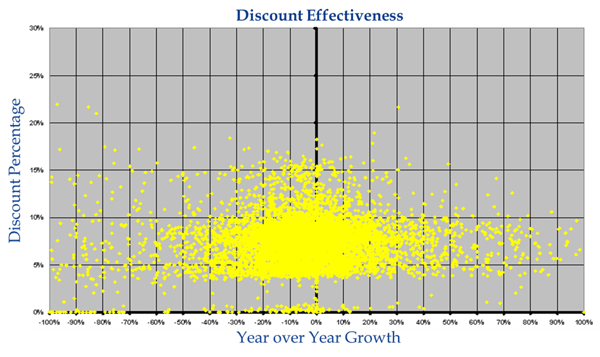 As you can see, there is absolutely no correlation between the depth of the discount and the pickup in volume. This is carpet bombing at its worst. It does not generate additional revenue. It destroys price integrity. It harms brand identity. It is the antithesis of Revenue Management.
Feeding the Rich; Starving the Poor
You will be desperate to keep your best customers, and you will desperately want to do something for them. It will be tempting to offer them the deepest discounts, as a "reward" for past purchases.
Nice sentiment. But feeding your best customers more discounts is an emotional response, not an objective, data-driven response. Your best customers, by definition, are the ones that understand your value proposition and are willing to pay you more.
You should absolutely do more for your most loyal customers, but giving them the deepest discounts is the wrong thing to do! Since they've historically paid the most for your product, find out what it is about your value proposition that they value and give them more of THAT. Is it a higher level of service? Is it access to typically unavailable inventory? Give them upgrades. Give them personalized service. Anything but price!
Companies who feed the best discounts to their "best" customers often miss the opportunity to feed the discount to a potential customer who may be "on the bubble" because of price. Seek out those price-sensitive customers and feed them the discounts! You'll then have the chance to capture them and grow them into loyal customers.
Buying the Business
Greg Cross (no relation to your author) recently retired as SVP of Revenue Management for Hyatt Hotels Corporation. Prior to Hyatt, he founded the Revenue Management program at Hilton Worldwide in the early 1990s and grew it to consist of thousands of high-performing Revenue Managers. He has seen it all.
I recently asked him if he had any experience to share concerning this crisis. Cross warned that the large corporate travel departments will prey on younger, less-experienced salespeople, especially during desperate times. A novice salesperson will hope to induce loyalty from the corporate buyers by offering them deep discounts. A rookie mistake. "Simply put, large companies couldn't give a damn about loyalty," says Cross. "They will willingly accept huge discounts if you offer them, but they won't allow you to ramp up rates once the crisis is over. Later, they will leverage the low rate and shop the competition, leaving you holding the bag."
You will have to discount. And you'll need to discount more than you'd like coming out of this crisis. However, any discounting must be made with a critical eye towards long-term outcomes.
In my book, Revenue Management, I relate a story that Bob McKenna, then CEO of National Car Rental told me. For years, National had been trying to win the seemingly lucrative IBM car rental business from perennial favorites Hertz and Avis. Finally, one day the head of sales announces victory: "We did it! We won the IBM contract!" A celebration breaks out on the executive floor. Cheers and high-fives all around!
Within weeks, however, the true cost of the win and the multiple layers of discounts were uncovered. Soon, everyone was asking, "How much longer do we have to go on the damned IBM contract?" National had bought the business. They paid painfully for a year.
Starting "Accidental" Wars
Price reductions offered in an attempt to gain competitive advantage are like shooting yourself in the foot and trying to kill the competitor with the ricochet. Price reductions alone can never create a sustainable competitive advantage. Any advantage you think you can get by reducing price will evaporate immediately since price reductions can be instantly matched.
In my book, I refer to The Nine Most Dangerous Words in Business. A competitor drops price. Someone at your company utters the dangerous words: "We can't let those bastards get away with this!" And you not only see their bet, you raise it. So they one-up you. The downward spiral begins. The next thing you know, it's a price war that's gone nuclear.
Targeted price reductions are an essential component in a robust competitive strategy. But I can't tell you how many times I've seen a company drop prices, just because they can't think of anything else to do to compete. What a cop-out.
Believe in Yourself
Desperation is not a strategy. Neither is hope.
You have the data, tools, and mindset to get through this crisis. You must approach your decisions in the same manner that medical staff must deal with the critically wounded. You must make quick, unemotional decisions which do the most good for the most people. You must keep a critical eye on long-term outcomes.
As of this writing, we are still in turbulence, and we will be for at least another month. I recently wrote an article about how executives can respond to the business disruptions caused by coronavirus. In a nutshell, we had placed a dozen corporate executives in commercial flight simulators and taught them to take off and land. Then the flight instructors threw disruptions like turbulence and hailstorms at them. They all crashed. And they all crashed for the very same reason—they overreacted!
We are still in the midst of coronavirus turbulence. We can do more harm than good at this point. Don't overreact!
The recovery will not be like anything we've seen before. There will be no snap-back to a normal state. As recovery begins, avoid the temptation of these Worst Practices to attempt to regain normality faster.
Sorry for the long list of things you should avoid. I know that many of you are looking for positive steps to take, right now, but the truth is, there is just not much that can be done at this point, aside from triage and avoiding long-term damage.
In my next article, I promise to be much more positive! I'll address the proactive steps you can take to assure recovery.
Request a personalized demo and learn how the Revenue Analytics N2Pricing™ RMS empowers hoteliers to consistently outperform revenue targets and save time in the process.