4 Keys to Weathering the Storm of Forecasting Errors After a Natural Disaster
During hurricane season, both high-risk communities and the Hospitality industry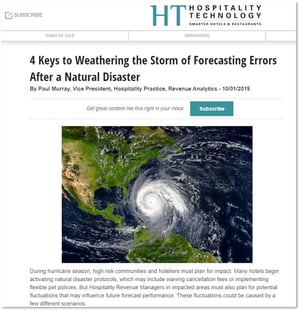 plan for impact.
Fluctuations in demand caused by evacuations, changes in travel plans, and extended recovery periods can distort future forecast performance.
And that's why Hospitality Revenue Managers also develop plans for managing the data that comes out of the storm.
For tips on making use of post-disaster data to improve forecasts and maximize revenue, read our feature in Hospitality Technology magazine.